Markin WHITE SELF-ADHESIVE LABELS IN CONTINOUS STATIONERY PERMANENT GLUE.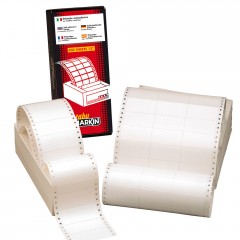 White self-adhesive labels, permanent glue.
For continuous stationery 1/2/3/4/5/6 rows. Permanent, extra-strong glue, acrylic dispersion, good adhesion on a wide range of surfaces, pellicles and cardboards.
Good performance at low temperature. The glue has been approved for direct contact with dry food, wet food and non-fat food. Sheet height 12'' (30,5 cm). Ideal for: flexo printing, offset printing, plain printing, thermal printing, needle and impact printing. 500 sheets/box.
Download pdf with tables
TABLES